API Plan 52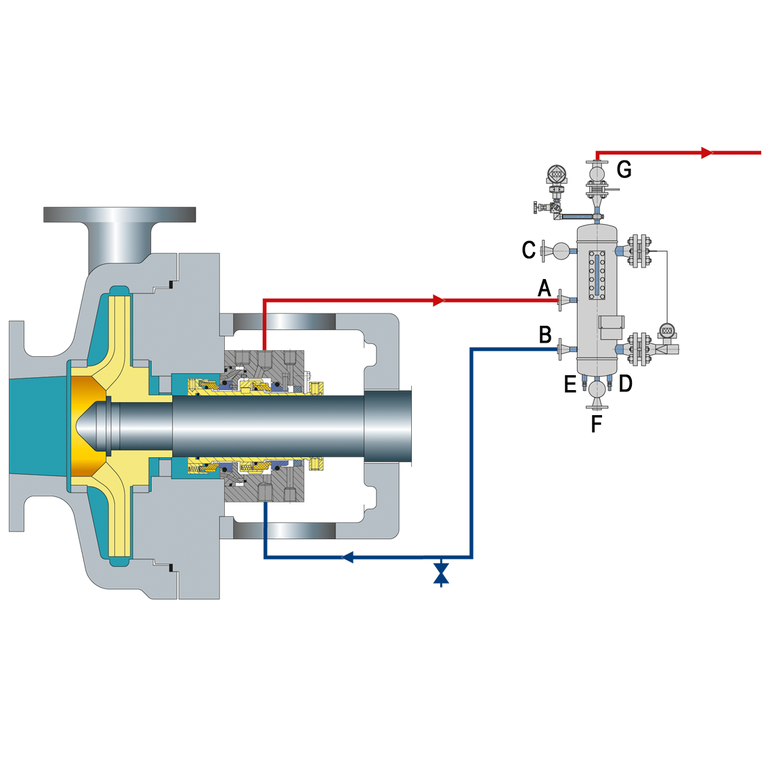 API Plan 52
Reservoir providing buffer liquid for the outer seal of an arrangement 2 unpressurized dual seal. The buffer liquid shall be maintained at a pressure less than seal chamber pressure and less than 2.8 bar (40 PSI).
A From mechanical seal
B To mechanical seal
C Filling connection
D Cooling water IN
E Cooling water OUT
F Drain
G Connection to flare
---
Seal chamber details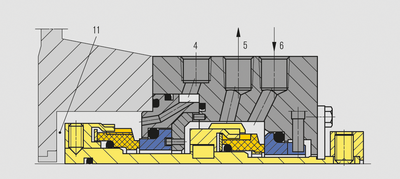 4 Flush (F)
5 Liquid buffer OUT (LBO)
6 Liquid buffer IN (LBI)
11 Seal chamber

Example seal: EagleBurgmann H75A4-T dual pusher mechanical seal.
---
P&ID according to API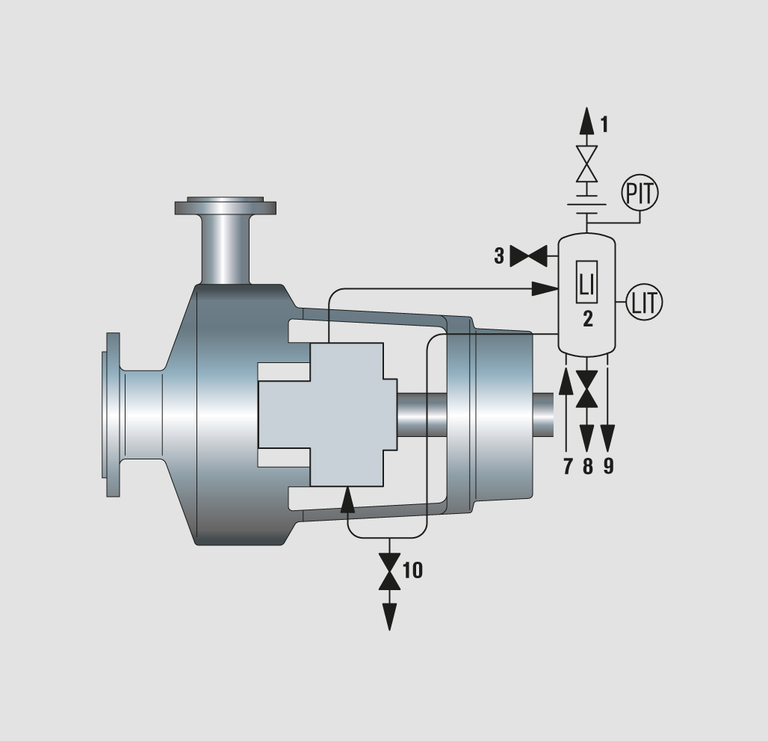 Key
1 To collection system
2 Reservoir
3 Make-up buffer liquid
7 Cooling water IN
8 Reservoir buffer fluid drain
9 Cooling water OUT
10 Buffer fluid drain

LI Level indicator
LIT Level transmitter with local indicator
Features
Provides lubrication and cooling to the contacting wet outboard safety backup seal.
The pumped fluid will not become contaminated.
The pumped media does not leak directly to atmosphere.
No pressurization required for the reservoir as is case of a Plan 53A.
Provision of cooling coil inside the reservoir or an external water or air cooler takes care of the heat removal.
Uses an internal circulating device to ensure buffer liquid circulation.
Application
For flashing services – for example light hydrocarbons, high vapor pressure fluids. Can also be used for non-flashing services.
For services where product contamination by a barrier fluid is not acceptable
Remarks, checkpoints
Do not use for contaminated and polymerizing media.
Use a restriction orifice plate in the vent line to maintain a back pressure in the reservoir.
Vent the system before start-up. Later ensure that the vent line always remains open and is connected to the flare.
The piping from the seal to the reservoir should be self-venting.
Sense the seal inlet and outlet line temperatures. Difference in the temperatures is an indication of proper flow.
An increase in either the reservoir pressure or reservoir level is an indication of inboard seal leakage.
A decrease in the reservoir level is an indication of outboard seal leakage.
Ensure the compatibility of buffer liquid with the pump media.
The buffer liquid shall be maintained at a pressure less than the seal chamber pressure and less than 2.8 bar (40 PSI).
Check buffer liquid quality at regular intervals and replace if required.
Pump media characteristics
High vapor pressure, flashing media.
Clean, non-polymerizing.
Hazardous / environmentally harmful if leaked directly to the atmosphere.
Location, function
Between seals
Buffer system (psealchamber > pbetweenseals)
Lubrication and flushing for the outboard seal and cooling for inboard as well as outboard seals.